Keep your side-hustle on the side with... 👇
The
🌎

's most exclusive online arbitrage sourcing community

Better than Amazon sourcing lists or software, this is the world's first invite-only online arbitrage Marketplace. Once you're in, you'll find flips like magic. 🪄

Request an invite to become an insider 🤘
It is an exclusive community of Amazon arbitrage sellers

It is a radically simple approach to find products to flip

It is completely self-service and pay-for-what-you-use

It is a process to unlock higher quality leads over time

It is a one-of-a-kind way to save you energy and money
It isn't available to just anyone who wants access

It isn't a software that scrapes retailers

It isn't an oversaturated list of leads you can't sell

It isn't a service with yet another subscription

It isn't a source of barely-profitable flips
Performance that speaks for itself
Leadgeek has perfected online arbitrage research over the past 896 days so FBA businesses just like yours can be as great as the products they sell.
12k
Online arbitrage leads found
🎉
$13

Average profit

81%

Average ROI

81

Average sales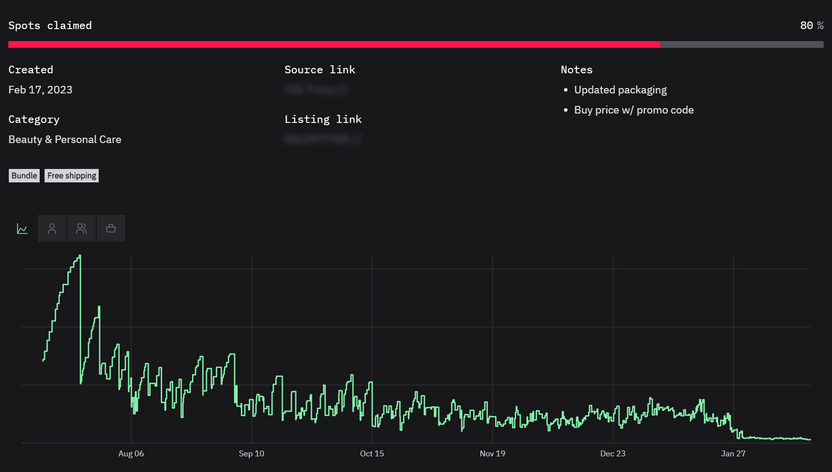 Here's the first thing you need to know 🧠
Only members can buy online arbitrage leads
Membership doesn't cost money, but it is extremely limited. If you get in, you'll have access to claim the exclusive, vetted arbitrage leads of the Marketplace.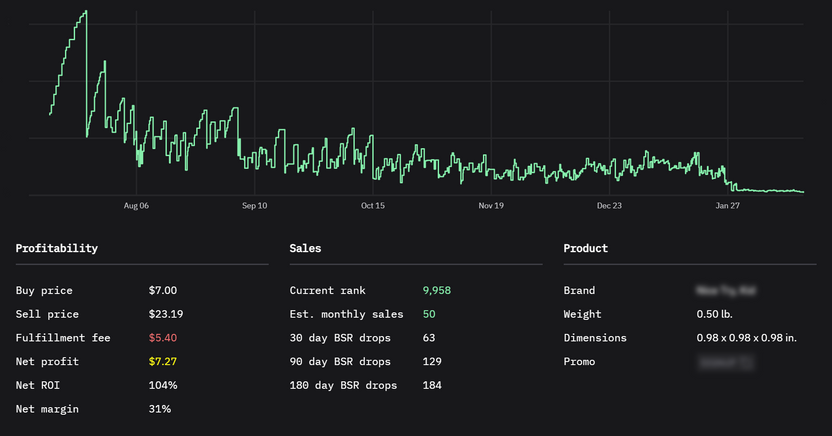 Personalize your arbitrage sourcing
It's okay to be picky 🔎. You get more than 15 data points about a lead at no cost, so you can feel confident that each one will meet your specific selling criteria.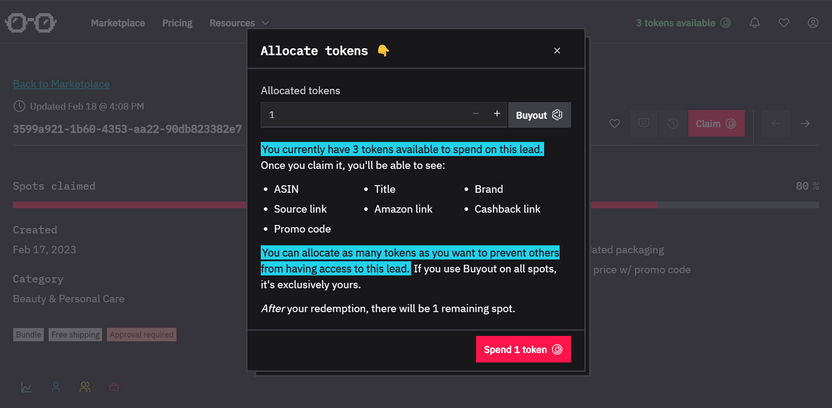 Tokens are the currency around here
Just like your favorite arcade, we've gone retro 🎮. You can exchange a token to claim a lead; and once you do, its identifying details are revealed.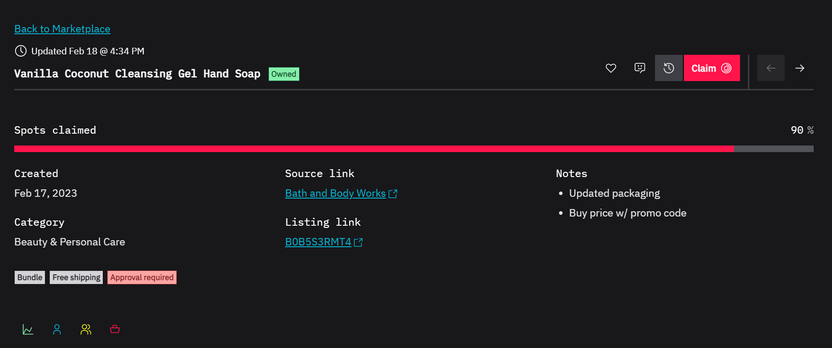 A workflow that's built around you
Leadgeek doesn't have any subscriptions, recurring costs, or hidden fees. You only pay for the leads you claim - and not a dime more - so you can scale up as you want. 🌱
Unlock leads from the inner circle
When you spend tokens on the Marketplace, you unlock access to increasingly better leads. This way, only the most active, loyal, and serious members get first pick of the best products - eliminating any price-tanking and "races to the bottom."
Packed with advanced features
Make your sourcing potent, fresh, and fun - Leadgeek is loaded with a modern suite of tools and integrations to give you the cutting edge in online arbitrage.
Ungated products

Link up to Seller Central so you know which products you're gated in before spending a token.

Lead Buyout

Don't share - become the only owner of an online arbitrage lead by "buying out" all other spots.

Token refunds

You can instantly refund a token within 15 minutes of claiming a lead if it doesn't check out after all.

Top-tier support

Reach out to human, friendly, and timely support whenever you need help or have a question.
Horn-tootin' 📢
What members have to say
Leadgeek has a 98% overall rating on Webretailer and tons of happy members.
The very first thing I bought as an FBA seller was from your list about 33 days ago. I've sold 5 units of that item so far today (it's only 3:50pm CST) and it's my first $100 day. Profit margin is roughly 25% and ROI more than 2x that. Thank you for helping me get started, [it's] excellent and only getting better. Highly recommend.

- Charles G.

Delivered their lists as promised daily and always had at least a few items I was interested in. Good value, would recommend.

- Brian P.

I really like the [software] setup.

- Dimitry S.

I want to thank you for the effort you make to find products with such good quality. It has been the best decision I have made in acquiring your list. Thank you!

- Frank R.

5 stars for you guys making this super simple.

- Austin N.

The software is awesome... It looks FANTASTIC on my first try! Great work.

- Yucheng W.

I love the leads, they're very good. Leadgeek will pay off in a week... definitely the best site I've found for leads.

- Kevin H.

I've been very satisfied so far!

- Dail T.

A friend of mine who got me started with Amazon uses 2 different lists, and I have seen about 5 total different lists. Yours is by far the most user friendly out there, so definite kudos there.

- Devin M.

Seriously, this is excellent customer service and you're very reassuring...I'm seriously going to mention you to a few friends who might need your service.

- John F.

Great source for retail and online arbitrage leads. Easy-to-use interface with links to retailer site and Amazon, daily lists, key information about each item like estimated number of monthly sales. Overall I am happy with Leadgeek and plan to continue using the service.

- Cage B.

Great product you provide. It's allowed me to grow to the point where I needed more listings and the other list I subscribed to wasn't doing it for me. Always has high quality leads and many more leads than a different more expensive list. Overall I highly recommend this list over other lists I have purchased in the past. Support is always responsive and the leads are great. I've been able to double my profits using this list. So much better than hours of pouring over Tactical Arbitrage. [It's] so good I canceled my other lists!

- Cris W.

You have an awesome product here and it's really improved since I used it about a year ago.

- Sal C.

Leadgeek delivers on their promises in the promo video on time every day with solid ROI leads. Would definitely recommend giving them a shot if you want to take the guess work out of sourcing for FBA. Definitely recommend.

- William S.

Thanks for this awesome service! It's been AMAZING so far!

- Zoe R.

I like the program, I like how easy it is to navigate, and it seems very functional.

- Keith V.

Great leads! I have purchased a dozen different items in multiples my first week.

- Edward M.

I enjoy the service and personally think this model is more focused on the consumer... Thanks for the quick and genuine response.

- Kyle C.

You obviously have a really cool website here and I love the concept.

- Tom L.
// What are the Marketplace lead criteria?

// How much does a token cost?

// Is the data for each lead updated periodically?

// Which categories are sourced?

// Can I sell these products on any Amazon marketplace?

// Do you offer any special discounts?

// What if I decide this isn't for me?

// What if I have more questions?
New memberships are limited.
Request an invite while they last.
Request an invite to become an insider 🤘